GIVING VALUE TO HUMAN WORK, QUALIFYING IT AND AT THE SAME TIME INCREASING PRODUCTIVITY
Hp3 engineering opts for the automation of business processes.
Hp3 engineering is a company that manufactures mechanical material and valves for general use. 
The request addressed to Project Group, concerned automating the process of testing, testing and measuring the parameters of the sliders. 
Until now, the latter was carried out following the same process, from the beginning: 
valve mounting inside the machine 

launch of automatic test  

removing valves from the bench 

final positioning in the container
A radical change, therefore, not only for the company but for all employees, who see in the new modus operandi an opportunity to facilitate work and thus increase productivity and health.
Project Group has studied and developed an ad hoc solution: HYDRAULIC LAPPING
Able to handle up to 28 different codes (types) of valves in autonomy, Hydraulic lapping supports independent shifts of 8 hours each and through human programming operates at night and on holidays, ensuring the company 24 hours of continuous work.    
Among the advantages that derive three are those on which we want to focus attention: 
Productivity: the use of the robot increases productivity by at least ¿ compared to human work, reaching testing up to 1600 in 24 hours.
Savings and Economic Return: the economic return on investment is almost immediate. The saving is dictated by the productivity-time ratio employed, the robot in a day triples the work of a human operator. 
Operator safety and health: Thanks to the work of the robot, employees can be employed in more rewarding mental tasks. 
Gianluca Algeri, commercial manager of HP3 engineering is satisfied with the choice made and the work of Hydraulic lapping:
The reality has reflected and exceeded expectations, production is increasing and the production cycle is definitely optimized. 

Labour costs are significantly reduced and this has allowed us to exploit our employees for less wear and tear. 

As a result, delivery times to customers have been reduced, thus increasing internal production capacity.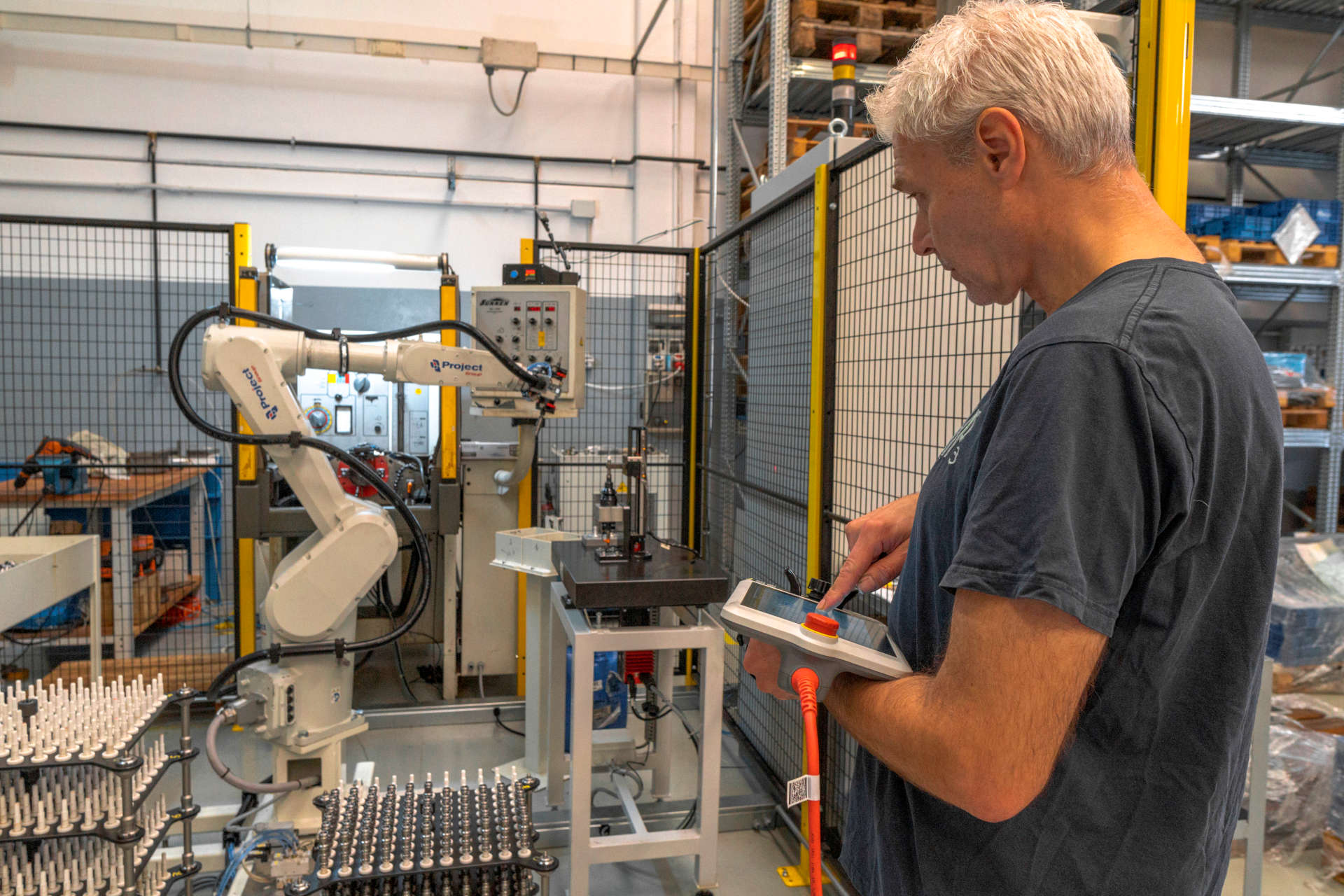 GIANLUCA ALGERI
Manager Hp3
Designing and developing these types of machinery is what makes Project Group a competitive company every day, which makes cutting edge the flagship of its work. 
Choosing us, not only means relying on professionals, but having a clear vision of the future that will come and how production processes can be efficiently improved.
The parts that "come out" of the robot have a minimum margin of error, much less than those produced by human labor. Consequently, the perfection with which the pieces come out allows you not to have to discard almost anything of the entire production.